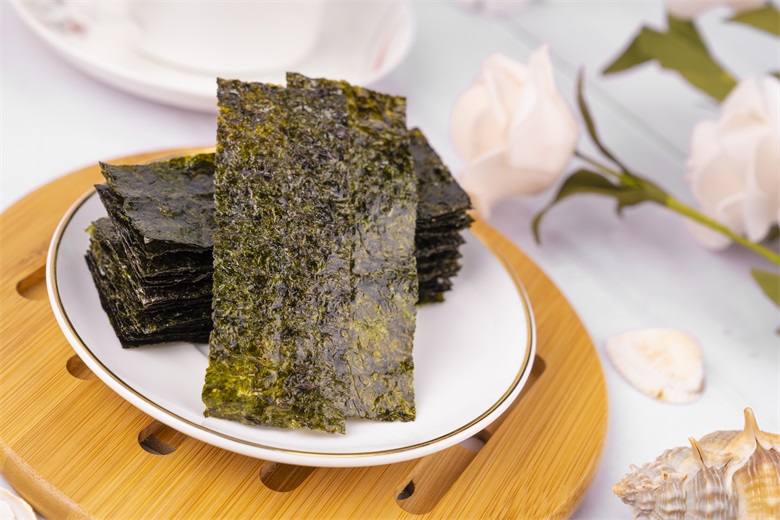 A seaweed sandwich is a delicious snack made of nori and various nuts. It is not only widely consumed, but also has a high repurchase rate. There are many kinds of nori snacks, which are popular with consumers, and play a role in promoting the snack industry and the wholesale industry of nori, breaking the application of nori in traditional food. Seaweed sandwich manufacturers are common in Fujian, Zhejiang, Jiangsu, and other coastal areas, and some production and processing enterprises have even formed industrial cluster benefits.
A seaweed sandwich is a sandwich with a variety of delicious nuts between two pieces of nori, which has become a favorite casual snack for many people. However, seaweed sandwich is different from seasoned nori in the past, because their flavor is richer and more crispy. Therefore, seaweed sandwich has a wide market.
Why are seaweed sandwich production enterprises mostly in coastal areas? The tool and special properties of the seaweed are inseparable, seaweed is a streak of seaweed as raw materials processed products, belongs to seaweed streak laver, growth in the sea, rich nutrition, taste delicious, is an important economic alga, but its characteristics from sea shore harvested after need to be processed into dried seaweed, as soon as possible to avoid deterioration and nutrient loss, therefore, Most processing enterprises are concentrated in the coastal areas, so it is not difficult to understand why the processing enterprises of seaweed sandwich are also concentrated in the coastal areas.
In coastal areas, there are not only seaweed sandwich manufacturers, but also a variety of other nori products, nori products, and other products can be purchased, mainly concentrated in these places, the relative price will be preferential.